Welcome to Euroloppet, where passion for cross-country skiing and cross-border community come together! Our Euroloppet ambassadors are enthusiastic sportsmen and women who not only share a love of cross-country skiing, but also embody the values of Euroloppet – team spirit, respect and the joy of movement in nature. Our dedicated ambassadors carry their enthusiasm for sport and especially for cross-country skiing out into the world. Be inspired by the stories and experiences of our Euroloppet ambassadors, who bring the fascination of cross-country skiing to life with their dedication and commitment. Follow us on the social media channels Instagram and Facebook and immerse yourself in the world of Euroloppet and let our ambassadors take you on an unforgettable journey through the diversity of cross-country skiing.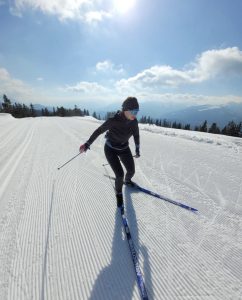 My name is Lisa Schartner, I am 26 years old and live in Filzmoos. Cross-country skiing plays an important role in my life. I took my first steps on cross-country skis at the age of three, thanks to my parents. In the years that followed, I learned both the classic and skating techniques. This sport still fascinates me as it offers the ideal combination of training and experiencing nature. The time I spent competing on cross-country skis was extremely rewarding and enabled me to take part in some local races. Today, the urge to achieve top sporting performance is no longer the main focus. Instead, I enjoy taking part in cross-country races on a part-time basis, such as those offered in the Euroloppet series. This allows me to share my passion with other enthusiastic cross-country skiers and explore the diverse trails in various destinations.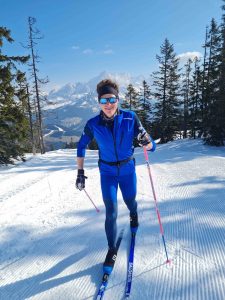 Hello, my name is Ricardo. I discovered my passion for cross-country skiing a few years ago through my friend, Lisa Schartner. Initially I learned the skating technique, but in the years that followed I developed a particular preference for the classic technique. The sport fascinated me right from the start as it is highly flexible and can be practiced with comparatively little effort. The variety of trail networks and technical styles, as well as the fact that there are no age limits or serious restrictions, make this sport particularly attractive. I myself only started cross-country skiing at the age of 23, and through the exchange with other cross-country skiers I was able to steadily improve my skills. By taking part in various challenges within the "Euroloppet" cross-country skiing series, I was able to further develop my enthusiasm. In recent years in particular, I have been able to significantly improve my technique and performance through targeted training.
Now we are taking the opportunity to share our passion and to complete training sessions together and constantly improve. We would like to share our impressions of our experiences in nature and the race series with you.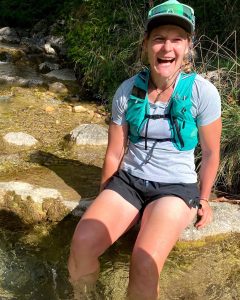 Hi, I'm Lena, 37 years old, a teacher and I live in Kiefersfelden on the border to Kufstein. I am married and have a 2 year old son. My hobbies are mountain sports in general. In summer I mainly do trail running and regularly take part in competitions. Ultra distances are my favorite. In winter, I hardly run at all, but ski instead. It's a mixture of cross-country skiing (classic) and ski touring. I've never competed in a cross-country race before and I'm curious to see what it will be like. Join me on my journey to my first cross-country skiing competition.